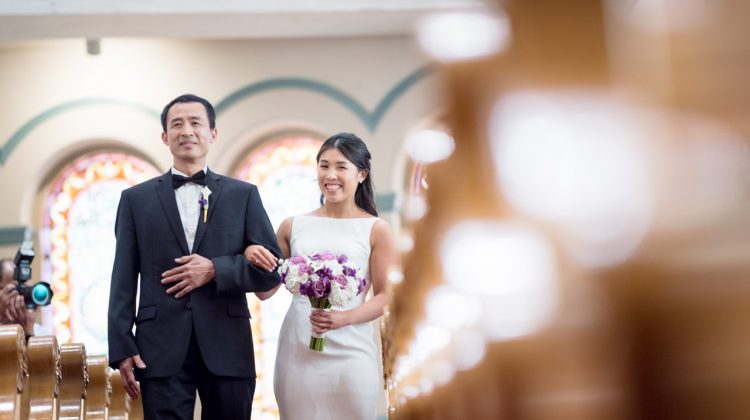 You discovered true love the moment you laid eyes on your little girl. Whether you met her at birth, as a toddler, or as a child needing a father figure in her life, your goal has been to love and protect her as only a father can.
When you become a father, no one warns you about the emotional transition from the early days of drinking imaginary tea from imaginary teacups to standing in front of a minister announcing your intent to give your adult daughter away. No one tells you how difficult it can be to pack a lifetime of special memories into a five-minute speech.
The intent of this blog is not to teach you how to write a perfect, cookie-cutter, Father of the Bride speech. Your toast, like your daughter, should be unique and special. That's what we're aiming to help you create with the tips below:
Don't overthink it. You're not writing a thesis. You are writing a love letter to your child. Think about how you felt the first time you looked into your daughter's eyes. What are some of your favorite memories? The smiles, tears, or laughter you're experiencing as you relive those moments almost always translate well on paper. Make a list of your favorite memories and then choose a few to include in your speech.
Give fatherly advice. What are things that helped you create a happy home with your significant other? If you're a single father, what are things you wish you had done differently? Newlyweds are often eager to glean life lessons from those who have been in their shoes.
Be vulnerable. She is becoming someone's wife, but she'll always be your little girl. It's okay to cry. You won't be the only one with tears in your eyes. Let them flow.
Have fun with it! This is a joyous time for your daughter and her soulmate. Crack a few dad jokes and talk about your new son (or daughter) in law. Let guests know what he or she means to you and why you're thrilled to welcome them into your family.
Read your speech aloud after you write it. Rehearse it. There are things and hiccups on your toasts that you won't notice until they're spoken aloud (sentences too long, too many syllables back to back, joke not as funny as you thought, etc.). Remember, speeches are written for the ear. Practicing aloud will help you write it best.
Don't wing it. Waiting until you're holding the microphone is always the worst time to write a speech. Weddings are already stressful and emotional without the fear of toasts going off-topic or dragging on for too long. If you don't trust yourself to write a full speech, get a note card and make an outline of topics you want to cover when toasting your daughter. Or hire a speechwriter to help you with the task several weeks ahead of time.
Let her go. This may be the hardest part of your speech. Unbeknownst to you, you've been letting go a little each day of her life. This is your moment to let her know how blessed you have been to watch her grow into the woman she is today, and how excited you are to see her walk this new path with her beloved.
If you feel uneasy about writing a speech, recognize that it's normal. Many fathers feel overwhelmed by the task. It's not uncommon to seek the assistance of a professional speechwriter to ease the process. Speechwriters have an uncanny knack for expressing your emotions by simply listening to you talk about how much you love your child and using their creative writing skills to craft a talk that's well-written and uniquely you.
If you choose to forego a professional, the tips provided should give you a good starting point for writing the beautiful Father of the Bride speech your daughter deserves.
Your speech is a milestone for both of you. Both the end and the beginning of a beautiful era. Whatever you decide to write and however you decide to present it…she's going to love it.