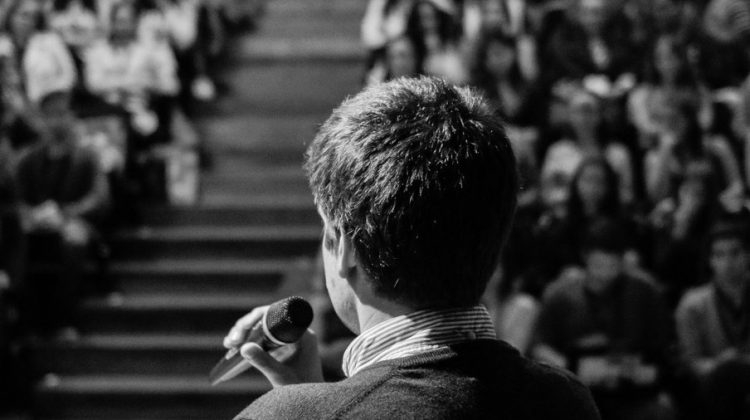 Speechwriters can spend much of their time staring at blank Microsoft Word documents trying to capture the voice of their speaker to help them sound credible, authentic, and inspirational. Whether it's finding a memorable quote, a compelling anecdote, or selecting the right call to action, every syllable matters when pulling together a powerful speech. However, if scribes don't understand their audiences before they begin writing, all their literary magic might be wasted. Without knowing the crowd, speechwriters risk their speakers coming across as boring, out of touch, or even worse, offensive.
Gene Zelazny, Director of Visual Communications at McKinsey once said, "designing a presentation without defining the audience is like addressing a love letter: To Whom It May Concern." Zelazny is not a speechwriter, but he's on to something. Like any presentation, the most effective speeches are ones that define and analyze the audience before remarks are written.
If you plan on writing speeches without the help of a professional speechwriter, the following five demographic points will help you get to know your audience before you begin:
1.     Age: Knowing the age range of your audience will determine acceptable cultural references, humor, and speaking style. If your audience is a group of millennials, don't hesitate to make pop culture references and your speaking style more informal. On the flip side, if the speaker is addressing older individuals, you might want to avoid bringing up the most recent trending hashtag on Twitter.
2.     Race/Ethnic/Cultural Background: Do your homework on this one, especially if the speaker is of a different background than the audience. Avoid stereotypes and try to understand important cultural norms, traditions, and practices they adhere too. If your speaker can tell a story that relates to another groups culture or acknowledges an important custom, it will show the audience that they tried to take a step into their world.
3.     Educational Background: Education and technical knowledge will vary among any group you speak too. Even if you're speaking at an investor conference, you can't assume that everyone in the room knows everything about financial markets. Therefore, be careful about using industry jargon. During a speech, your audience can't go back and re-read what you said. If you use accessible and understandable language, you'll keep your audience engaged and avoid confusion.
4. Political Party Affiliation: Almost any conversation can turn political today. This isn't to say you should avoid talking about politics if it's relevant to the message but steer clear of hyper partisan topics – guns, abortion, and taxes to name a few. These issues are timely, and though you may have a strong opinion on them, avoid them like the plague if they will alienate the audience.  
5.     Religion: This is one of the most salient parts of people's identity, so you'll want to tread carefully if talking about faith. Avoid cultural references that may be offensive to certain groups or quoting people with antagonistic views towards religion. For example, if you are speaking to a group that is a predominately religious, you might want to avoid recycling a joke from Bill Maher. And on the flip side, if you are speaking to a secular group, you should avoid quoting the Gospel of Matthew.
While understanding these areas are important, always remember that not everyone who fits into a demographic think and feel the same way about your speaker and their message. Every audience in every location is different, so you'll need to be diligent in your research to uncover the nuances that are not obvious. You should always stay on message, but tailor the remarks where appropriate to ensure your speaker will connect with the audience. Also, don't be afraid to ask the event organizers questions about the attitudes and value system of the audience. They could have key intelligence that you won't find online.  
Without a doubt, this part of the process is tedious and requires time –which you won't always have– but, if you get to know your audience first, you'll be equipped to write a speech that will resonate, that people will remember, and that will make the audience feel like the speech was written and delivered just for them. If you are short on time or expertise and would like assistance penning your next speech, we are here for you. Contact us today for a free consultation.
 Related content:
BLOG: Understanding Jargon and How to Avoid It
VIDEO: What is Cultural Competency