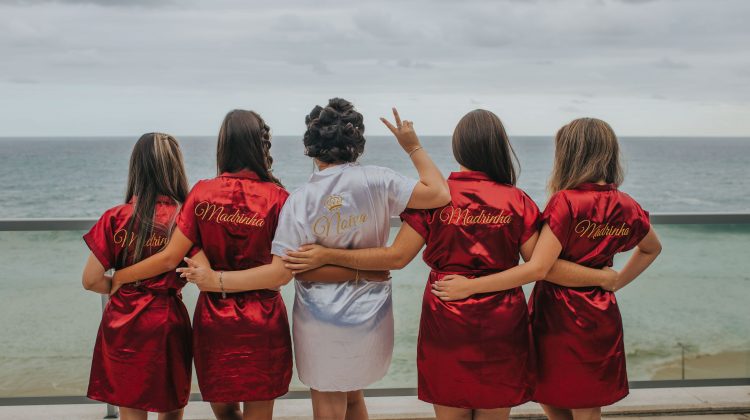 Congratulations! Your best friend is jumping the broom, and she's asked you to be her Maid of Honor. You're excited and literally honored, but you soon realize that taking on this role means more than wearing a dress that sets you apart from the bridesmaids. The title comes with responsibilities. The Maid of honor plans the bridal shower as well as the bachelorette party. She is the keeper of the wedding ring and holder of the bridal bouquet. She acts as a therapist, guiding the bride through the emotional ups and downs of planning a wedding. She is all these things, and yet, for many Maids of Honor, the most daunting task is writing her wedding toast.
The wedding toast (or wedding speech) is an integral part of the reception. At this moment, as the Maid of Honor, you are expected to express your love and appreciation for the bride in front of a captive audience—many of whom you don't even know.
Public speaking is intimidating under almost all circumstances, but it can be especially daunting on such a one-of-a-kind day. If putting your thoughts and feelings into words feels like an overwhelming task, a professional speechwriter can help.
Hiring a professional speechwriter is a relatively inexpensive and stress-free way to create a touching wedding toast. The right speechwriter can quickly craft a toast based on what you share about the bride.
If hiring a professional isn't an option, writing your own toast is far from an impossible task. We've compiled a few helpful tips to help you create a memorable and heartfelt wedding toast.
Don't freestyle. Unless you're a battle rapper, it's always best to prepare your toast in advance.
Keep it short. Traditionally, toasts are no more than 30 seconds. However, a wedding toast is usually given in the form of a short speech. Try to limit your toast to 2-3 minutes.
Speak from the heart. What's your favorite memory of the bride? When did you realize the groom (or other bride) was her soul mate? What is your fondest wish for the happy couple? Do you have any advice to impart?
Don't mention past relationships. Even jokingly, the mention of previous partners can place an awkward and uncomfortable silence over the room.
Don't embarrass the bride. If your fondest memory of your friend contains information not suitable for her parent's ears, pick a new memory.
It's ok to feel emotional. Don't try too hard to fight back tears.
Use note cards. Note cards are easier to read than a folded piece of paper.
You're writing a wedding toast, not a novel. Recognize the task for what it is and allow yourself to enjoy the process.
Writing your wedding toast is a potentially therapeutic experience. As you write your speech, you'll find yourself reflecting on the meaning of friendship. You may find yourself gaining an even greater appreciation for the bride. She chose you as her Maid of Honor because you've positively impacted her life. By following these tips, your toast will reflect how her friendship has positively affected you.
Good luck!